Halloween Music Bingo Details
Date/Time
Date(s) - Wed, Oct 30, 2019
6:00 pm - 8:00 pm
Location
Brew Republic Bierwerks
Categories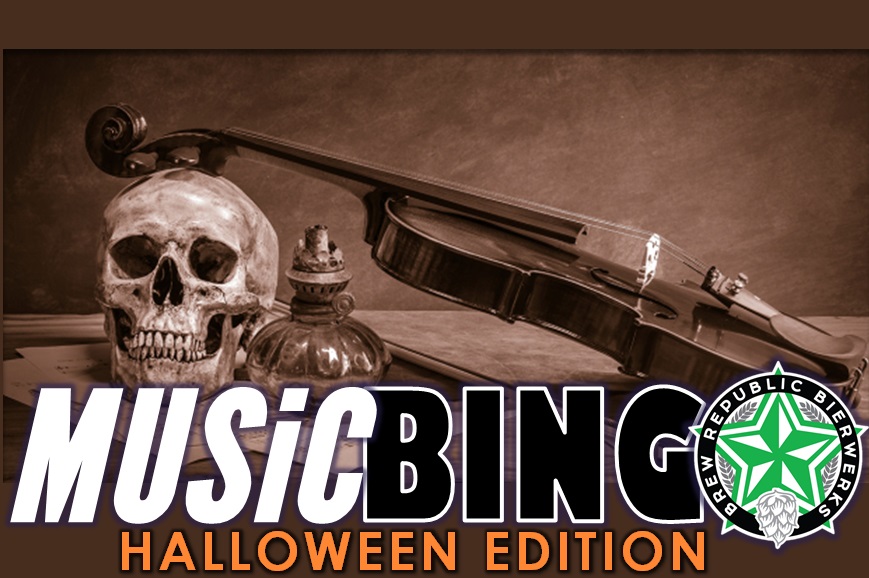 Join us Wednesday night for a spooky edition of Music Bingo, starting at 7pm. Grab a beer and a ghastly bingo card, ID the frightening tunes you hear on the radio, mark your card, and win ghoulish major awards… It's that easy! Plus, we'll have terrifying half-priced wings during Happy Hour (3-7pm) and ghastly growler fill specials (20% off all fills) from Noon-9pm.
Here's how it works: You get a bingo card with your initial purchase of a beer or wine, and additional cards can be purchased for $2 each. The proceeds from the additional cards will go to support wounded warriors through Azalea Charities. Music will play over the speakers, and if you correctly identify the song, and it is on your card, you mark that song. If you get 5 in a row before everyone else, you'll win a major award. And as an added twist, if two or more people get bingo at the same time, we'll have a dance-off to determine the winner (by popular vote of course).
Also join us for our other Halloween events: 4th Annual Halloween Costume & ScARyOkE Party (10/25); Kids Treat or Treat Sunday (10/27); Special Edition Thursday Night Music Bingo – the Emo/Screamo Edition (10/31).