Music Bingo: Heartbreak Edition Details
Date/Time
Date(s) - Wed, Feb 13, 2019
7:00 pm - 9:00 pm
Location
Brew Republic Bierwerks
Categories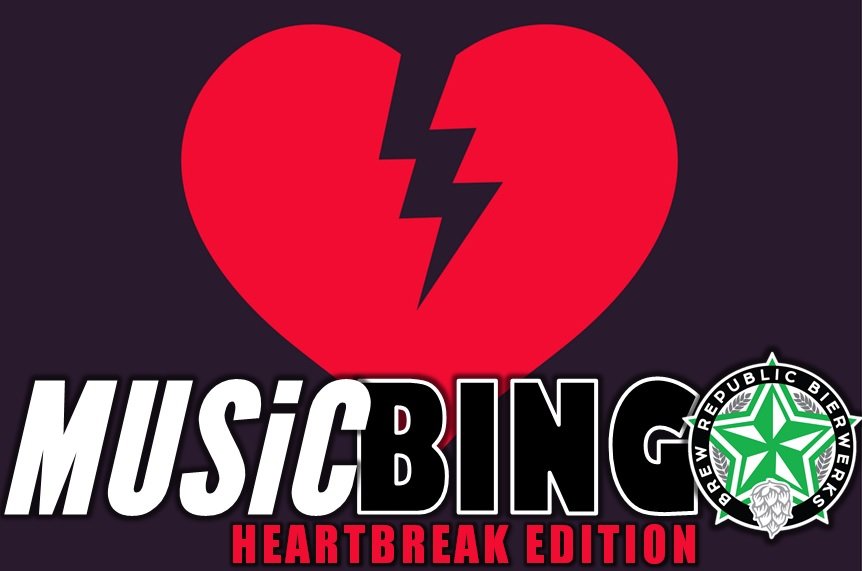 Join us for a special Valentine's Day Heartbreak edition of Music Bingo, this Wednesday starting at 7pm. Grab a beer and a bingo card, ID the tunes you hear, mark your card, and win major awards… it really is that easy. Note: dance-offs are used to break ties so be sure to wear comfortable shoes.
Plus, Wednesday also mean 50 Cent Wings during Happy Hour (3-7pm) and 20% Off Growler Fills all day (2-9pm)… Wingo-Bingo Wednesday is serious business!
---
Get a bingo card and a glass of beer (or wine) and keep your ears peeled for songs listed on your card. Do you have the music recognition skills to outlast the competition? You could win major awards! It's more fun than should be allowed on a WEDNESDAY* night… but it is… we checked.
We'll rotate the genres each week (Hip Hop; Country; Pop; Rock; Decades).
Here's how it works: You get a bingo card with your initial purchase of a beer or wine, and additional cards can be purchased for $2 each. The proceeds from the additional cards will go to support wounded warriors through Azalea Charities. Music will play over the speakers, and if you correctly identify the song, and it is on your card, you mark that song. If you get 5 in a row before everyone else, you'll win a major award. And as an added twist, if two or more people get bingo at the same time, we'll have a dance-off to determine the winner (by popular vote of course).
Visit the taproom every Wednesday* night 7-9pm to join the fun!
* During NFL season, we've moved Music Bingo to Wednesday nights; after NFL season, Music Bingo will return to Thursday nights.